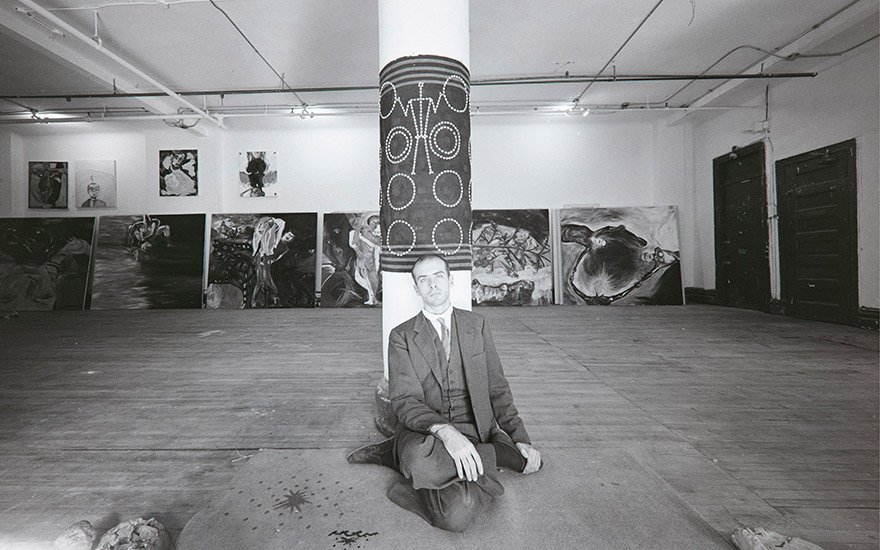 Francesco Clemente: A Profile of the Italian Painter
A leading figure in Neo-Expressionism, the Italian artist defies categorization with his complex symbolic visual language. Illustrated with works from the Collection of Thomas and Doris Ammann
"To be a painter, I needed to be an exile," Italian artist Francesco Clemente said in a 2020 interview. "Being yourself isn't that interesting. To be lost between two states of being opens a door.
Born in Naples in 1952, Clemente studied architecture in Rome before making the first of many trips to India in 1973. His extensive travels and studies of artistic and cultural production around the world – from woodblock printing to Japan to Indian Miniature Painting – informed his diverse works through painting, drawing, and installation, which offer elliptical, symbol-rich meditations on erotic and spiritual themes.
Poet Derek Walcott, who has drawn comparisons between Clemente's enigmatic iconography and that of Marc Chagall and William Blake, said of Clemente's paintings: "I appreciate the joy in their patience, in their emphasis on the valuation of the painter – each painter – in symbol and mystery, in their open piety… To sanctify pleasure is to be what Wordsworth called the priest of nature – not of landscapes, but of our mental journey.
On August 5, Christie's New York will present Francesco Clemente: Works from the Collection of Thomas and Doris Ammann, a private exhibition and sale which will continue until September 4 in Southampton.
Influenced by Twombly, Arte Povera and Beuys
Arriving in Rome at the age of 18, Clemente encountered the work of American painter Cy Twombly, who had lived in the city since the 1950s, as well as Italian Arte Povera artists such as Pino Pascali. He was inspired by their transformative and radical works, as well as those of Joseph Beuys, whose title of the 1971 exhibition in Naples declared "The revolution is us".
In Rome, Clemente also met Italian conceptual artist Alighiero Boetti in 1973, who became a close friend and mentor. Boetti and his wife, Anna-Marie Sauzeau, exposed Clemente to the ideas of thinkers such as Jacques Lacan, Michel Foucault, Gilles Deleuze and Félix Guattari, stimulating his philosophical exploration of the self.
A nomadic and culturally curious student
In 1974, Clemente traveled with Boetti to Afghanistan, where he learned about Sufi mysticism, met the weavers and embroiderers of Boetti's tapestries, and experimented with a variety of drugs. That same year he met the actress Alba Primiceri, whom he would later marry and who was a frequent subject of his iconic portraits.
During the mid to late 1970s, Clemente also made several trips to India – learning Sanskrit and studying ancient Vedic texts at the library of the Theosophical Society in Madras. Clemente was drawn to the deep spiritual connection to the past he found in India.
"The gods who left us thousands of years ago in Naples are alive in India," he said. The colorful and often obscure imagery he encountered at ancient sites as well as in contemporary advertisements and signs fueled the artist's burgeoning visual language.
From 1980 to 1981 he collaborated with miniature painters from Orissa and Jaipur to produce Francesco Clemente Pinxita series of twenty-four gouache paintings on old handmade rag paper.
At the forefront of transavanguardia and neo-expressionism
Alongside artists Sandro Chia, Enzo Cucchi, Nicola de Maria and Mimmo Palladino, Clemente became associated with the Transavanguardia movement – a branch of Neo-Expressionism – in Italy in the late 1970s and 80s, marking a return to the figurative art and symbolism in contemporary art following the domination of conceptualism. Clemente himself declined to be placed in any particular style-based school, instead emphasizing the importance of the work's content.
In 1982, Clemente moved to New York City, where he was warmly welcomed into the bustling downtown scene. He has collaborated with Jean-Michel Basquiat and Andy Warhol, as well as with Allen Ginsberg and William S. Burroughs. He set up a studio in a loft on Broadway and embarked on one of his most ambitious projects to date, The fourteen stations (1981-82).
For this series of twelve large-scale paintings – four of which are featured in the upcoming exhibition – Clemente worked with a medium outside his comfort zone: oil on linen. In doing so, he resumed the tradition of Western painting from the Renaissance to the present day, marking his arrival among the greatest painters of the time in New York.
Widely exhibited around the world
In 1999, the Guggenheim Museum in New York presented a retrospective of Clemente's work, galvanizing his reputation as a highly influential contemporary artist. Since then, demand for the artist's works – including his famous portraits depicting subjects, often cultural luminaries themselves, with oversized eyes – has grown steadily.
Last May, Clemente set an artist record at auction with the sale of The Fourteen Stations, No. XI (1981-82), also from the Collection of Thomas and Doris Ammann. The iconic painting sold for $1,860,000, smashing its pre-sale estimate of $80,000.
In addition to the Guggenheim, Clemente has had solo exhibitions at the Philadelphia Museum of Art, the Sezon Museum of Modern Art in Tokyo, and the Galleria d'Arte Moderna in Bologna, among others.
From July 27, the ALBERTINA Museum in Vienna will offer a comprehensive solo presentation of the artist's work, focusing on his self-portraits and the itinerant journeys that link his ongoing transformation as painter and subject.
Writer Salman Rushdie situates Clemente in the tradition of the self-portrait as an eternal shape-shifter: "Clemente is a shape-shifter par excellence – actor, clown, mask, avatar – and, as slippery as the legendary Old Man of the Sea, he squirms hard when you try to pin it down. You have to hold on tight, and for a long time, while it constantly mutates to escape your grasp…'