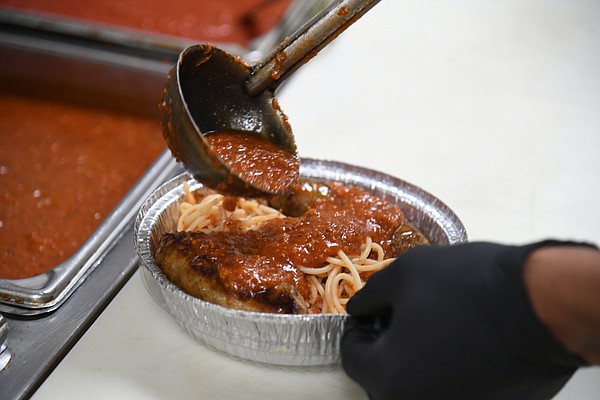 Consistency, the key to success at the Villa
"Everything is from scratch, cooked to order and homemade," said Joe Nash, chef and manager of Italian Villa restaurant in Hot Springs. "Fresh ingredients, no substitutions, no decanting."
Although the restaurant has changed ownership in recent years, Nash said the food and flavors are consistent.
"We have the fresh seasonings with fresh basil in a lot of things, you know, oregano and the Italian flavors, everything," he said. " Fresh cream. I mean, heavy cream like you wouldn't believe. It's pretty good.
According to Bobby Dennis, who does advertising and marketing for the Beasley / Jennings food group, which currently owns it, the restaurant was previously owned by Shaum Afkhami and is around 20 to 25 years old. The old lakeside restaurant location burned down about 15 years ago, Dennis said, before it was moved to its current location at 4332 Central Ave.
Beasley / Jennings Food Group, which also owns local restaurants such as McClard's BBQ, acquired the Italian villa about two or three years ago, according to Dennis.
Although they've arranged one room in the restaurant to make it a private dining room for reservations, they haven't changed much else around the restaurant, Dennis said.
Video not playing? Click here https://www.youtube.com/embed/ltse8TruEOQ
"It's kind of like the situation with McClard's, where you want to keep it the way it was, the way people are used to having it," he said.
"Over 20 times it's been voted best in Hot Springs because of the way it was done and we've tried to keep it that way," he said.
The restaurant offers local specialties, including lobster ravioli and a seafood mix, all made with fresh ingredients, Dennis said.
Nash, who worked for the previous owner for several years, said tomato, marinara and bolognese sauces are made every day, with Alfredo sauce made to order.
Nash said the previous owner left all of the restaurant recipes, which aside from a few "small tweaks," have remained the same over the years.
For those who stop, Nash recommends the Sea Scallops Avocado, with the house's favorite pink brandy sauce. Other favorites included the Napoleon with prawns in a garlic and white wine sauce, while Dennis highlighted the garlic bread, "probably the best garlic bread you've ever put in your kitchen. mouth".
"When they bake this bread, it permeates the whole place," he said.
Garlic butter is also made in-house, Nash said.
"The same guy who's been making garlic butter from day one… he's been there from the start," Nash said. "So this recipe certainly hasn't changed."
Q&A with Joe Nash
Here are excerpts from the interview with Joe Nash, presented in question-and-answer format:
Favorite food?
Nash: It used to be lasagna but I have to say I should probably go with Chicken Alfredo now. You know, you get this richness of flavor, and then we have the veal. Our veal is getting really popular now … our Veal Marsala, with Marsala wine and mushrooms. It is really a good dish.
Favorite restaurant?
Nash: Well Bone's (Chophouse) of course! You know, the boss owns it (laughs). But no, I like it here. I worked here for three and a half years and left here, went to Bone's … When (Beasley / Jennings Food Group) took over here, they transferred me here.
Your favorite part of working in Hot Springs?
Nash: The local crowds. You have people coming in, familiar faces. I have people that I have fed for 12-15 years who follow me from different restaurants and come. It's just that loyalty of the locals.
Go for comfort food?
Nash: Maybe the lasagna. It's good, plentiful, good for any type of weather. It is a good address.
Villa Italian chef and manager Joe Nash presents a dish on Wednesday, with Deputy Chef Dominic Clayton in the background. – Photo by Tanner Newton of The Sentinel-Record
The pasta is lined up for orders at the Italian Villa on Wednesday. – Photo by Tanner Newton of The Sentinel-Record