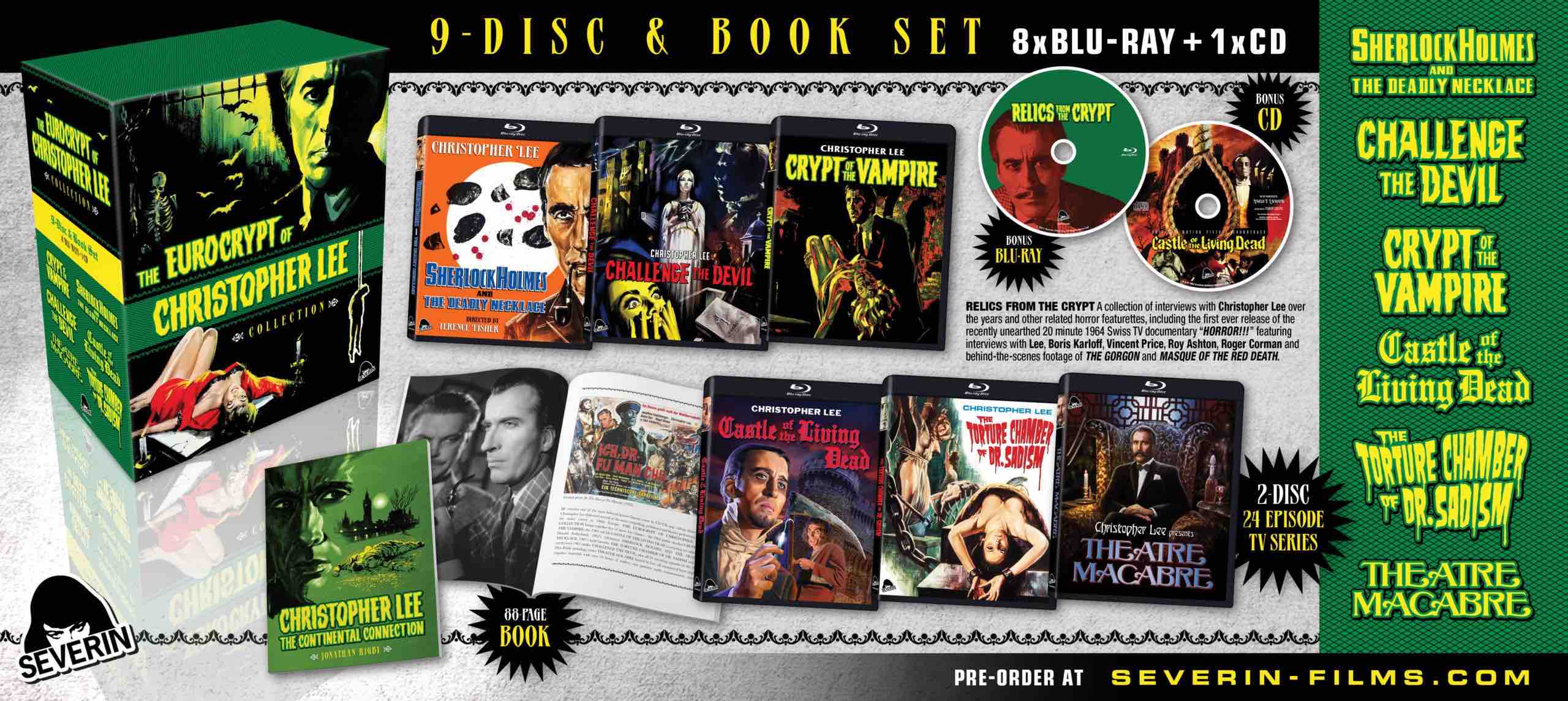 Christopher Lee's 9-Disc Eurocrypt Blu-ray Box Set Celebrates the Horror Icon's Sixties European Race
Legendary horror icon Christopher Lee receives a full Blu-ray box set courtesy of Severin Films. Christopher Lee's Eurocrypt is a 9-disc collection of a number of European Lee films from the 1960s with a wealth of bonus material, an 88-page book by biographer Lee Jonathan Rigby, and much more.
Titles include VAMPIRE'S CRYPT, CASTLE OF THE LIVING DEAD, SHERLOCK HOLMES AND THE DEADLY NECKLACE, DR. SADISM, CHALLENGE THE DEVIL, and 24 episodes of the 1971 television anthology MACABRE THEATER, all hosted by Lee.
Sounds like a great way for horror fans to delve into Lee's work outside of his memorable roles in classic Hammer Films productions, including Dracula and Frankenstein's Curse.
Check out the full press release below, which includes a disk-by-disk breakdown of the set's special features. Christopher Lee's Eurocrypt released on June 22 from Severin Movies.
He remains one of the most beloved horror / fantasy icons in American / British pop culture history, but Christopher Lee delivered several of the most compelling, acclaimed and bizarre performances of his entire career in the 1960s. in Europe. CHRISTOPHER LEE'S EUROCRYPT brings together five of these Lee classics – the Gothic Shock of 1964 VAMPIRE CRYPT; the cult hit of 1964 CASTLE OF THE LIVING DEAD with an unknown Donald Sutherland; 1962 celebrated SHERLOCK HOLMES AND THE DEADLY NECKLACE; The sinister favorite of 1967 THE TORTURE CHAMBER OF DR. SADISM and the rarely seen 1963 quirk CHALLENGE THE DEVIL– with the 24 surviving episodes of the 1971 film Polski anthology series MACABRE THEATER hosted by Lee, all remastered from original negative material with over 10 hours of trailers, rare promotions, audio commentary and vintage interviews, as well as the CASTLE OF THE LIVING DEAD soundtrack and a brand new 88-page book by biographer Lee Jonathan Rigby – "Christopher Lee – The Continental Connection".

Severin Online Store Limited and Exclusive Bundles Include Terence Fisher – Master of Gothic Cinema, The Authorized Biography By Tony Dalton Signed First Edition Hardcover (forthcoming by FAB Press in UK. Brand new merchandise also available , including an original art print and the Christopher Lee enamel pin.

CASTLE OF THE LIVING DEAD (1964): In the last film of his early '60s European period, Christopher Lee plays a 19th century earl who invites a theater troupe for a weekend of horrors that enthusiastically boasts of a spooky performance of Lee, from surprising places in Lazio, to Orsini in Italy -Odescalchi Castle and the Park of the Monsters, direction of the second unit by Michael Reeves (WITCHFINDER GENERAL) and the on-screen debut of Donald Sutherland as doofus gendarme and hunchback witch. Philippe Leroy (THE NIGHT PORTER) and Jacques Stany (VIOLENCE IN A WOMEN'S PRISON) co-starred in this 1964 Franco-Italian co-production by American producer Paul Maslansky – who would go on to produce the films DEATH LINE and POLICE ACADEMY – and Warren Kiefer, another expatriate writer / director – after whom Sutherland would name his son – is now being digitized in 4K from the Italian negative for the first time.

CHALLENGE THE DEVIL a.k.a KATARSIS (1963): In the most obscure film of his early 1960s Italian period – if not his entire career – Christopher Lee stars in this brilliantly bizarre combination of neo-realistic crime thriller, Christian tawdry melodrama, cabaret musical bubbly and trippy gothic horror, culminating in a gang of bongo-crazed delinquents threatened by a white-haired Lee like a sinister Victorian who could be Satan himself. George Ardisson (HERCULES IN THE HAUNTED WORLD) and Adriana Ambesi (FANGS OF THE ALIVE DEAD) star in this stunning 1963 quirk that marked the only onscreen credit for writer / director Guiseppe Vegezzi, who shortly committed suicide. after its commercial failure. Also known as KATARSIS and little seen for over 50 years, it is now scanned in 2K from the Italian negative for the very first time.

SHERLOCK HOLMES AND THE DEADLY NECKLACE (1962): Shortly after their successful collaboration on THE HOUND OF THE BASKERVILLES, Christopher Lee and director Terence Fisher (HORROR OF DRACULA) returned to Holmesiana for Lee's only feature film depicting the world's greatest sleuth. Shot in Berlin with Thorley Walters, a Hammer regular as Dr Watson, Lee considered it "one of the best things I've ever done because I tried to play Holmes really like it." 'he was written – as a very intolerant, argumentative and difficult man. Senta Berger (WHEN WOMEN HAD TAILS) and Ivan Desney (THE MARIAGE OF MARIA BRAUN) co-star in this 1962 West-French-Italian co-production produced by Artur Brauner (VAMPYROS LESBOS) from a screenplay by Curt Siodmak (THE WOLF) MAN) and based on Valley Of Fear by Sir Arthur Conan Doyle, now scanned in 2K from the German negative.

MACABRE THEATER (1971-1972): Christopher Lee hosted this anthology television series originally produced by Film Polski (KNIFE IN THE WATER, THE TIN DRUM) in the lineage of ALFRED HITCHCOCK PRESENTS and BORIS KARLOFF'S THRILLER. Lee delivers the intro and outro for every half hour at its best and often cheeky, while the tales themselves – adapted from stories by Poe, Dostoevsky, Ambrose Bierce, Robert Louis Stevenson, and Oscar Wilde – are written and / or made by filmmakers. among which Andrzej Zulawski (POSSESSION) and Oscar® winner Andrzej Wajda (MAN OF IRON). Dubbed in English and featuring an " additional dialogue " by Jesse Lasky Jr. (THE TEN COMMANDMENTS, 7 WOMEN FROM HELL) with a new musical theme by Ron Goodwin (VILLAGE OF THE DAMNED, FRENZY), it remained in largely unseen since it aired on American Television in 1971. These 24 surviving episodes have now been scanned in 2K from the original negatives.

THE TORTURE CHAMBER OF DR. SADISM (1967): Christopher Lee plays Count Regula, a foolish nobleman convicted of murdering a dozen virgins and quartered for his crimes. But when a lawyer – former Tarzan Lex Barker – is summoned to the Earl's Castle 35 years later, he'll unlock a "wildly entertaining" (Buried.com) odyssey of torture, dismemberment, and spooky Bavarian places that are within. equal parts Mario Bava and Hieronymus Bosch. Karin Dor (YOU ONLY LIVE TWICE) and Dieter Eppler (VAMPIRE ASSASSINATOR) co-star in this 1967 'Underrated Gem' (The Telltale Mind) – also known as CASTLE OF THE DEAD, BLOOD OF THE VIRGINS and THE BLOOD DEMON – directed by krimi veteran Harald Reinl and loosely based on Poe's The Pit & The Pendulum, now digitized in 4K from the original German negative with all new special features.

VAMPIRE CRYPT (1964): In a sumptuous Gothic shock inspired by Sheridan Le Fanu's immortal short story Carmilla, Christopher Lee delivers a rare " hero " trick as a noble Earl Karnstein whose eerie castle is full of ancestral curses, desires unnatural, philosophical hunchbacks and macabre acts of revenge. Adriana Ambesi (FANGS OF THE LIVING DEAD) co-stars in this 1964 Spanish-Italian co-production – also known as TERROR IN THE CRYPT and CRYPT OF HORROR – directed by Camillo Mastrocinque (AN ANGEL FOR SATAN) as Thomas Miller & Robert Spafford from a screenplay by master giallo Ernesto Gastaldi (ALL COLORS OF BLACK) as Julian Berry and Sergio Leone's protégé Tonino Valerii (MY NAME IS NO ONE) as Robert Bohr, with now a 2k scan from a fine grained 35mm master print.

Special functions for The castle of the living dead:

* Audio commentary with Nathaniel Thompson of Mondo Digital and screenwriter Troy Howarth
* Audio commentary with screenwriter Kat Ellinger
* From the castle to the academy – Interview with master producer Paul Maslansky
* The Castle of The Mystery Man – Roberto Curti, author of Mavericks of Italian Cinema, on writer / director Warren Kiefer
* CD soundtrack

Special functions for Challenge the devil a.k.a Katarsis:

* Dance with the Devil – Interview with Roberto Curti, author of Mavericks of Italian Cinema
* The importance of being Giorgio – Interview with Giorgio Ardisson for two decades
*Trailer

Special function for Sherlock Holmes and the Death Necklace:

* Audio commentary with writers Kim Newman and Barry Forshaw

Special function for Macabre Theater:

* Promo with Christopher Lee

Special functions for Dr Sadism's torture chamber:

* Audio commentary from Nathaniel Thompson of Mondo Digital and screenwriter Troy Howarth
* Audio interview with actress Karin Dor (German with English submarines)
* Featurette location
* Theatrical trailer (German)
*Trailer
* Die Schlangengrube – Die Burg des Grauens – German Super 8 Digest Short
* Die Schlangengrube des Grafen Dracula – German Super 8 Digest Short
* Poster gallery
* Backstage photo gallery
* Restoration slideshow

Special function for Vampire's Crypt:

Contents of the bonus disc – Relics of the Crypt:

*HORROR!!! – 1964 Swiss short documentary film by Pierre Koralnik with interviews with Christopher Lee, Boris Karloff, Vincent Price, Roger Corman and Roy Ashton
* Behind the Mask – Christopher Lee remembers Boris Karloff. New edition of unfinished 1991 documentary by Ian Rough
* Belgian television interview of Cinescope 1976 with Sélim Sasson
* Colin Grimshaw interviews Christopher Lee in 1975
* 1985 Audio interview with Christopher Lee, accompanied by still images from The Del Valle archives and video introduction with David Del Valle
* Monsters and Vampires – Interview with pioneering horror film historian Alan Frank
* The Crypt Keepers – Making of Crypt of the Vampire Featurette with screenwriter Ernesto Gastaldi, assistant director Tonino Valerii and film historian Fabio Melelli
* "O Sole Mio / It's now or never" and "She will fall for me" Clips by Christopher Lee and Gary Curtis with optional audio commentary by Gary Curtis
* The invincible Sir Christopher – Filmmaker Philippe Mora recalls Lee
* Outtakes from TO THE DEVIL… A DAUGHTER / THEATER OF DEATH 2001 Interview session on DVD covering the scariest movies of all time, BLACK MASSES, POLICE ACADEMY 7 & More
* University College Dublin Q&A 2011 with Sir Christopher Lee
Related