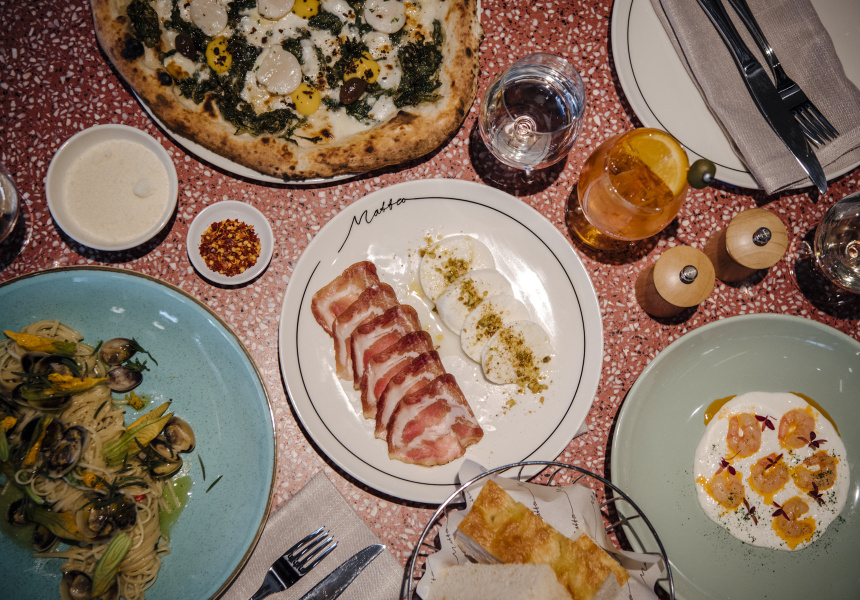 A summer guide to Italian restaurants in Sydney
On paper at least, Sydney could look like the Amalfi Coast: we have the beaches, the sun, and the great outdoor bars. We seem to miss a little of that Italian energy at times – if you don't know where to look. But you can find it all in some of Sydney's best Italian restaurants. From candlelit trattorias to loud dinners all day long, here are five places we're taking our friends for an Aperol spritz this summer.
Matteo, Double Bay
Inspired by the Amalfi Coast and the great all-day restaurants of Milan and Rome, Matteo is beloved by residents of Double Bay for his lively outdoor aperitif space, where spritzes and antipasti are served with live music. the weekend. Drawing inspiration from the culinary culture of Campania, a region in southwestern Italy, the menu is simple and the flavors fresh: think hand-made pasta, fresh mozzarella, and local seafood. And, of course, pizza. The dough here is doppia lievitazione – twice proven – so it is perfectly light and elastic.
Il Baretto, Paddington
The common Italian family neighborhood Il Baretto spent 20 years on Bourke Street in Surry Hills before moving to Paddington in late 2020. It is now part of the stylish Paddo Inn dining room and looks a bit more flashy, but the food, the team (co-owners Domenico Santopadre and Gabriella Fedeli) and the atmosphere are largely the same. The menu, printed on a roll of butcher paper hanging on the wall, features spaghetti alle vongole that might just be Sydney's best, but the pappardelle with simmered duck stew also packs a punch.
Fratelli Paradiso, Potts Point
Potts Point institution Fratelli Paradiso turns 20 this year, and laid back Italian gets better with age. There's still not much better to grab one of the coveted alfresco tables on Avenue Challis on a summer evening and enjoy a plate of pasta (or that famous squid) with an Aperol spritz. It's run by three Italian boys – Marco Ambrosino and brothers Giovanni and Enrico Paradiso – who cut their teeth as waiters and always roam the house, giving off loud but warm Italian service that keeps us coming back.
Totti's, Bondi
Home of the famous swollen bread on social media, Totti's has been sorely missed in Sydney's eastern suburbs during the lockdown. But, just in time for summer, it's open and back in full swing. At the back of the Royal on Bondi Road, this restaurant is large and vibrant, with a bright indoor space and a large outdoor courtyard surrounded by olive trees. Food comes first: Led by Mike Eggert of Pinbone, the menu features meats cooked in a Josper charcoal grill and features a mouth-watering selection of homemade antipasti, desserts and cold cuts.
Pino's Vino and Cucina
Pino's Vino e Cucina certainly isn't as bright and bright as the other restaurants on this list, but Restaurant Alexandria makes up for it with its romance. In a quiet corner of a residential street, this place is off the beaten track, dimly lit, and moody, with exposed brick walls, candlelit tables, and a dark wood-lined bar. Named after owner Matteo Margiotta's father, Pino, the food is traditional and represents regions across Italy: from fresh spaghetti to sea urchins; roasted eggplant with ricotta; and homemade bread.
This article is produced by Broadsheet in partnership with Aperol. With 100,000 Aperol Spritz up for grabs this summer to celebrate being together again, find out how to claim yours.